We are Coughlan Engineering (Tullamore) Ltd
One of Ireland's Leading Metalwork Design & Fabrication Specialists
We have been around for fifty years and in that time the business has shown flexibility to adapt to changes in trends and demand. Originally focusing on industrial maintenance and mould making for the precast industry, key customers included Bord na Móna, ESB and Killeshal Precast Concrete.
The Company was founded by Tom Coughlan and acquired by In Granite Ltd in 1998. Since then, the Company evolved into one of the top ten architectural metalwork and sheet metal fabricators in Ireland, serving the Construction industry.
Now in its third generation of management, the Company is focused on adding further value with capital investments which augment our material processing capabilities, and through continuous product and process innovation.
Structural Metalwork Design
We are capable of taking a project from initial design stage through to full completion.
We have expertise in producing finite element analysis reports, line load and anchor bolt calculations for bespoke loading scenarios.
We produce drawings for client approval and shop drawings using 2D CAD, Solidworks and Tekla and can collaborate on clients' Building Information Modelling platforms.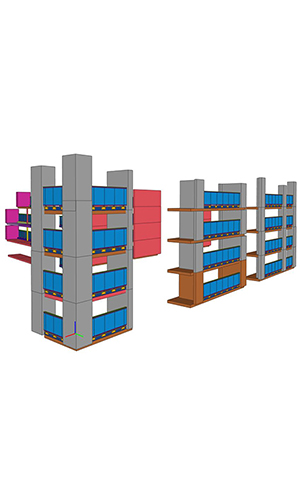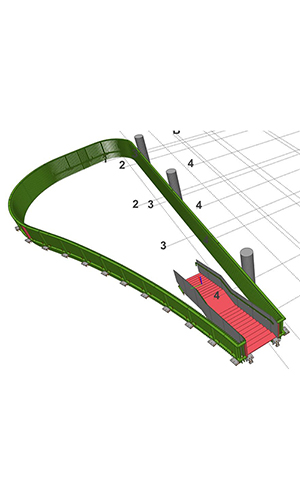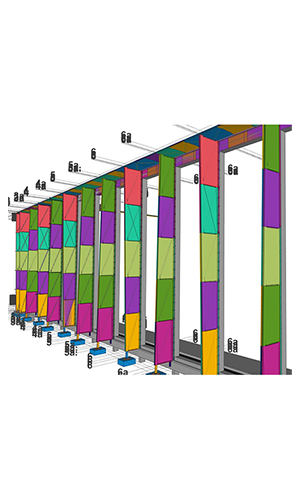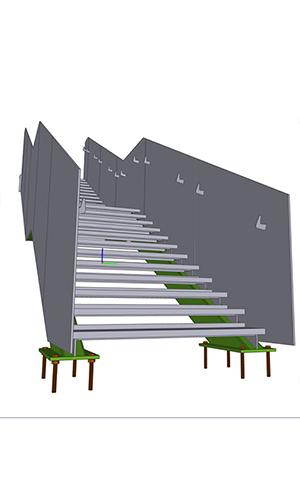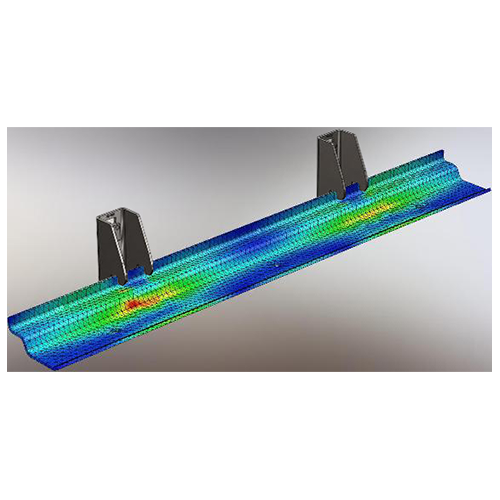 Metalwork Fabrication Capacity
Our workshop is centrally located in the Irish midlands, within easy reach of seaports and all 32 counties on the island of Ireland.
Our freehold property has 660 sqm of mild steel manufacturing, 305 sqm of dedicated stainless steel manufacturing, and 260 sqm of office space. We have dedicated in-house design staff, project manager, responsible welding coordinator, visual weld inspector, accounts staff, safety manager and directors. This scale allows us to operate four site installation crews (scalable in size) and approximately fifteen skilled manufacturing staff. We are building off very solid foundations.
Our machine and processing capability includes, but is not limited to:
Cutting & Holing
• Flow Mach 500 5-axis CNC waterjet 4.0m x 2.0m. • Baykal Hydraulic Shear/Guillotine 4.1m x 10mm cutting capacity. • Hypertherm Manual Plasma • 3 x Saws • 3 x Pillar Drills
Cold Forming
• MVD Inan 320 Ton x 4.1m CNC Hydraulic Press • 2 x Sahinler Metalworkers HKM 60 & HKM 85 • Ercolina Section Roller • Pinacho S-90/260 Manual Lathe • Ercolina CNC Stainless Steel Mandrel Pipe Bender
Fabrication & Post Processing
• 12 x Welding Bays • Garboli LPC 300 Wet Stainless Steel Polishing Machine • Priming & Painting to EN 1090-2 [External Resources] • Hot Dip Galvanising to EN ISO 1461: 2009 [External Resources] • Powder Coating to EN 15773 [External Resources]
Factory Production Control Certification
We are CE Certified to EN 1090 Execution Class 2 [EXC2]. NSAI certification covers us for products placed within the jurisdiction of the European Union and we are separately certified by the Steel Construction Certification Scheme (SCCS) for product placed on the British market. 
The overall objective of Coughlan Engineering (Tullamore) Ltd is to achieve long term profitability by manufacturing and installing steelwork, sheet metal work and associated products to customer specifications and in compliance with the Building Regulations and EN 1090-2.
The Company is committed to implementing and maintaining a Factory Production Control system that satisfies the requirements of ISO 3834-3 and EN 1090-1, and which supports the parallel objective of increasing customer satisfaction.
The Company demonstrates this commitment by allocating suitably qualified resources to maintain the Factory Production Control system, to continuously review performance and make improvements.
Ultimate responsibility for this policy remains with the Managing Director, and all personnel are empowered with the authority to work within the scope of their responsibilities to ensure that the Factory Production Control system works correctly.
This quality policy applies to all the activities of the company including those taking place at the main offices and workshop located at Riverside, Tullamore, Co Offaly and at sites on which the company may be engaged from time to time.
Stainless Steel Fabrication