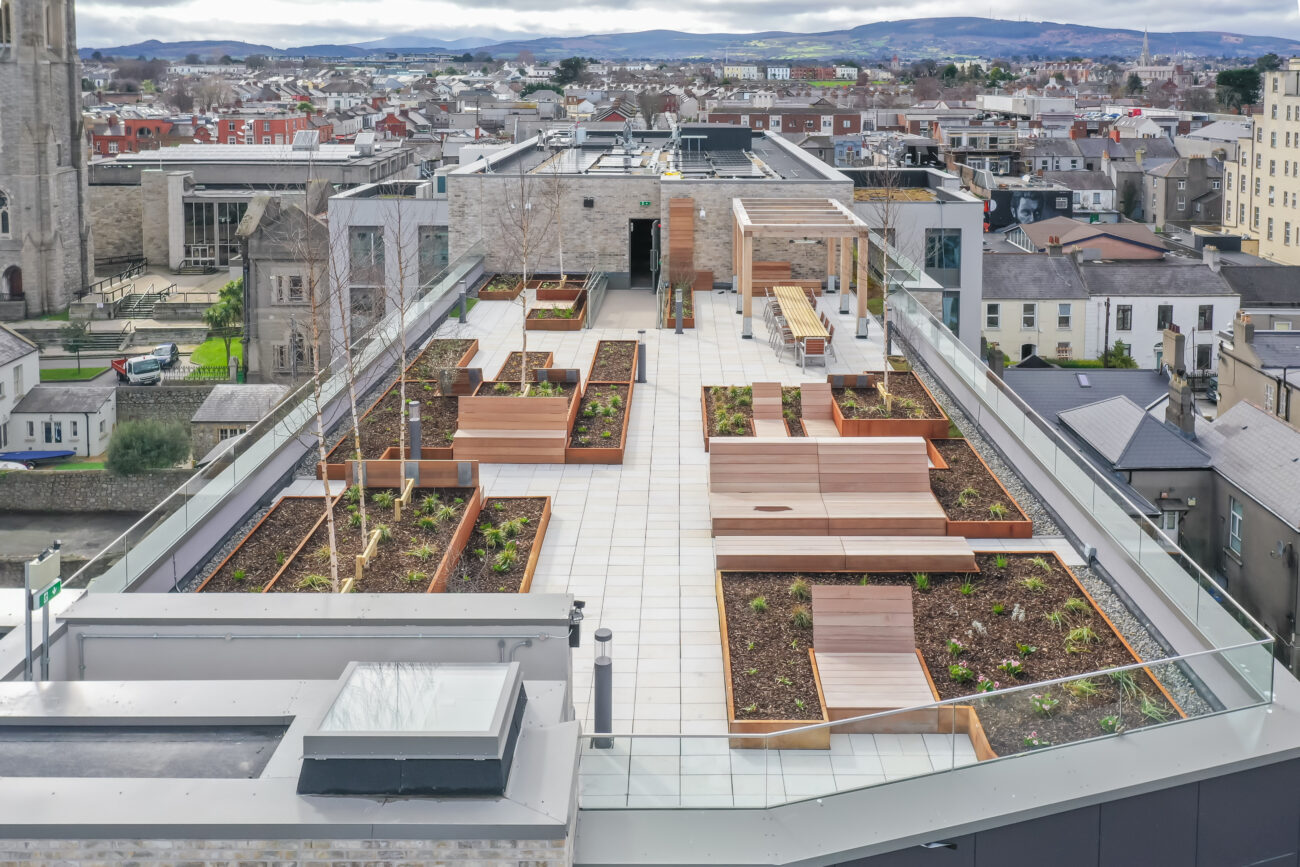 Niche Living Planters
Coughlan Engineering (Tullamore) Ltd was approached in regard to the design and supply of Corten steel planter edging panels and structural supports to form a stepped roof garden at Eblana Avenue, Dun Laoghaire.
Corten steel is known as a weathering steel. When left untreated, the material forms a protective layer of oxidation and requires no ongoing maintenance. Corten steel is an excellent choice for planters due to the constant contact with moisture in the soil and especially this exposed saline environment beside the Irish Sea.
When corten steel is purchased from the mill it has the appearance of standard "blue" steel. The patina comes with weathering, but oxidation can be accelerated with a simple spray-on solution of vinegar, hydrogen peroxide and salt. It is advisable that the material should be fully pre-patinated before sitting on top of a surface that is prone to visible staining, or to have a method of draining away any run-off water. This is highly achievable on roof gardens which normally feature raised paving slabs, pebbles or sedum as a primary covering.
We conducted a value-engineering design study and were in a position to assist our customer meet budget targets during a period that was characterised by massive inflation in the price of raw materials, by reducing the material thickness from 6mm as specified to a mixture of 4mm and 3mm. We used finite element analysis and submitted a full set of design calculations to validate the change.
The supporting plinth was surveyed manually and modelled in SolidWorks, with the panels and support posts added. Panels were cut by means of waterjet profiling and folded on our 320 ton CNC press brake. We were delighted with the impressive results and the prominent location. Contact us in relation to Corten steel planters, we look forward to adding our next signature project.
Architect: Stephen Diamond & Associates
Client: Niche Living
Contractor: Townmore
Completed: 2022
Scope: 264 linear metres of Corten Steel planter panels
3no freestanding planters